This Easy Apple Pandowdy recipe is made with the yummiest baked apple pie filling topped with toasted puff pastry bites and a light dusting of powdered sugar.  All of the great flavors of apple pie…without all of the work required to make a pie!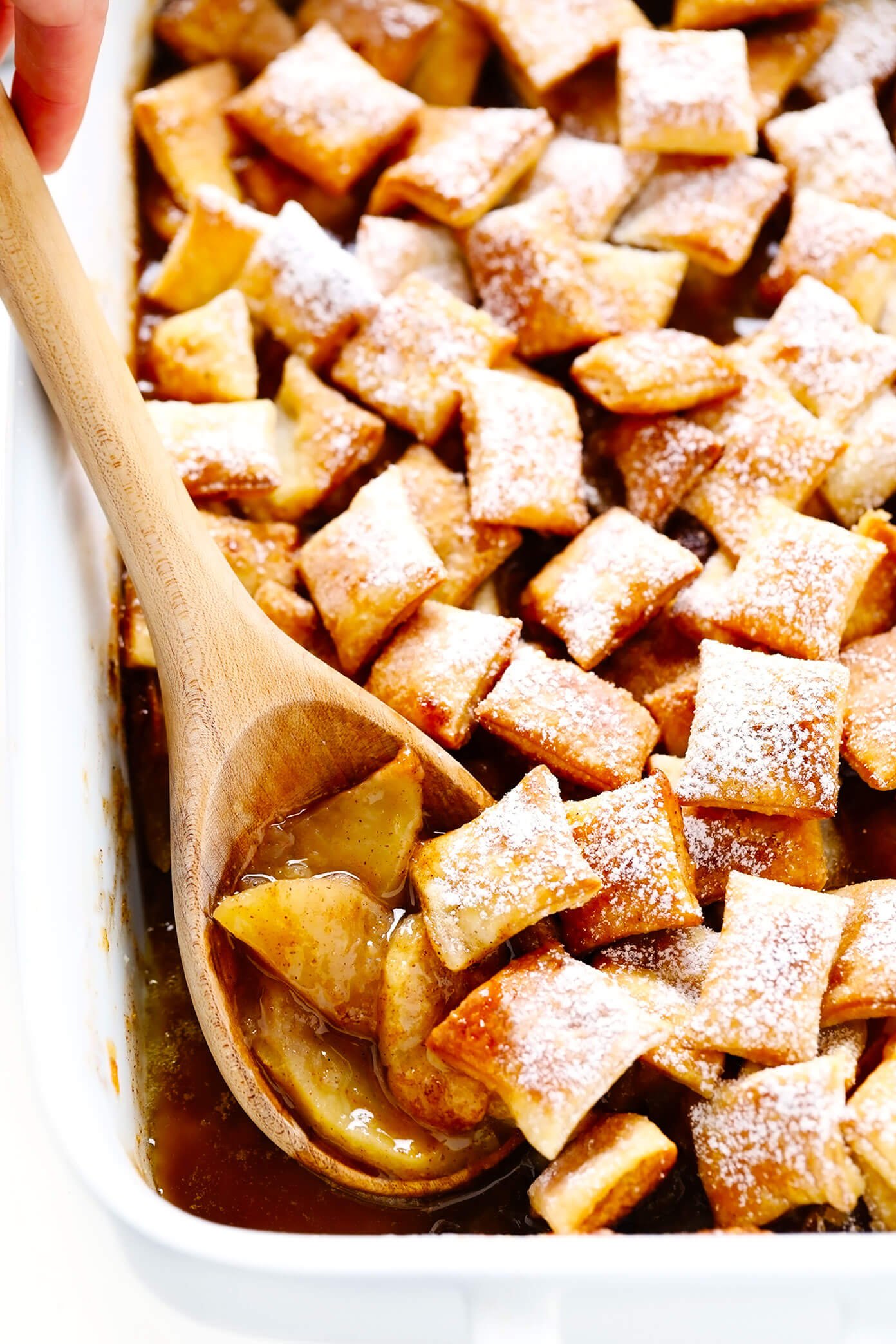 To all of my fellow apple pie lovers out there…have you ever tried making apple pandowdy? ♡
I first heard about this old-fashioned dish, which is said to have originated in the Pennsylvania Dutch tradition, years ago from Martha Stewart.  And I was immediately intrigued because it was basically everything I love about apple pie…without all of the work of having to assemble a pie!
Details about the exact heritage of this dish seem to be a little fuzzy.  But from everything I've read, apple pandowdy is traditionally a dessert made in a baking dish (or cast-iron skillet) with a cinnamon apple filling sprinkled with a layer of overlapping bite-sized pieces of pie dough.  Together, everything bakes up in the oven to toasty, bubbly, sweet perfection.  Then once the dish is pulled out from the oven, you take a spoon and briefly press the topping down gently into the filling so that it can soak up some of those hot apple juices, and finally, serve the pandowdy nice and warm with a generous scoop of cold vanilla ice cream.
It's all exactly as delicious as you would imagine.  And so much quicker and easier to make than apple pie!  So since I figure we could all use some easy shortcuts for our lower-key holiday season this year, this seemed like the perfect time to bring this old-fashioned dish back to the future.
We have loved making this dish with homemade (or store-bought) pie crust in our house over the years.  But I actually recently saw a fun version from Bon Appetit that used fluffy puff pastry as an apple pandowdy topping, and have to say that we've loved it even more than the original!  Granted, I've made a few tweaks to their recipe to make it a bit quicker and easier.  And I've also been on a big vanilla chai kick this winter, so I've added a few extra chai-inspired spices to the apple filling to make it extra-special too.
So today, I wanted to pop in before Thanksgiving and share the apple pandowdy recipe that we've been loving lately.  If you love apple pie as much as I do, I think you're going to love it!
Apple Pandowdy Ingredients:
Before we get to the full recipe below, here are a few notes about the ingredients you will need to make this apple pandowdy:
Store-bought puff pastry: One package of store-bought frozen puff pastry, which we will let thaw on the countertop while the apple filling is prepared so that it becomes a bit more soft and pliable.  (That said, if you live in a country outside of the USA where puff pastry is sold refrigerated instead of frozen, no need to let the package thaw — you can just unfold and cut it immediately after removing it from the fridge.)
Apples: I used Granny Smith apples, whose tart flavor and firm texture I love in apple pie filling.  But feel free to use any type of apples that you prefer — peeled or unpeeled, cut into either 1/2-inch-thick slices or chunks.
Lemon: We will toss both the zest and juice of 1 lemon with the apple, which will add a hint of tartness to the filling and help prevent the apples from browning.
Brown sugar: Or you are welcome to use any other type of sugar or sweetener that you prefer.
Melted butter: Half of which we will mix into the apple pie filling, and half of which we will brush over the puff pastry.
Flour: To thicken the apple filling a bit.
Warming spices: I used a chai-inspired blend of warming spices for the apple filling, including ground cinnamon, cardamom, ginger, cloves, nutmeg (plus some fine sea salt).  But if you don't have all of these spices on hand, you can keep things simple with just cinnamon and cardamom.  Or you could also use pre-made apple pie spice (or pumpkin pie spice) for the apple filling instead, if you prefer.
Vanilla extract: To compliment all of those delicious warming spices in the apple pie filling.
Powdered sugar: To dust on top of the pandowdy before serving.