This one-pan sautéed green beans recipe is quick and easy to make and tossed with the most irresistible crispy rosemary-garlic-almond bacon breadcrumbs.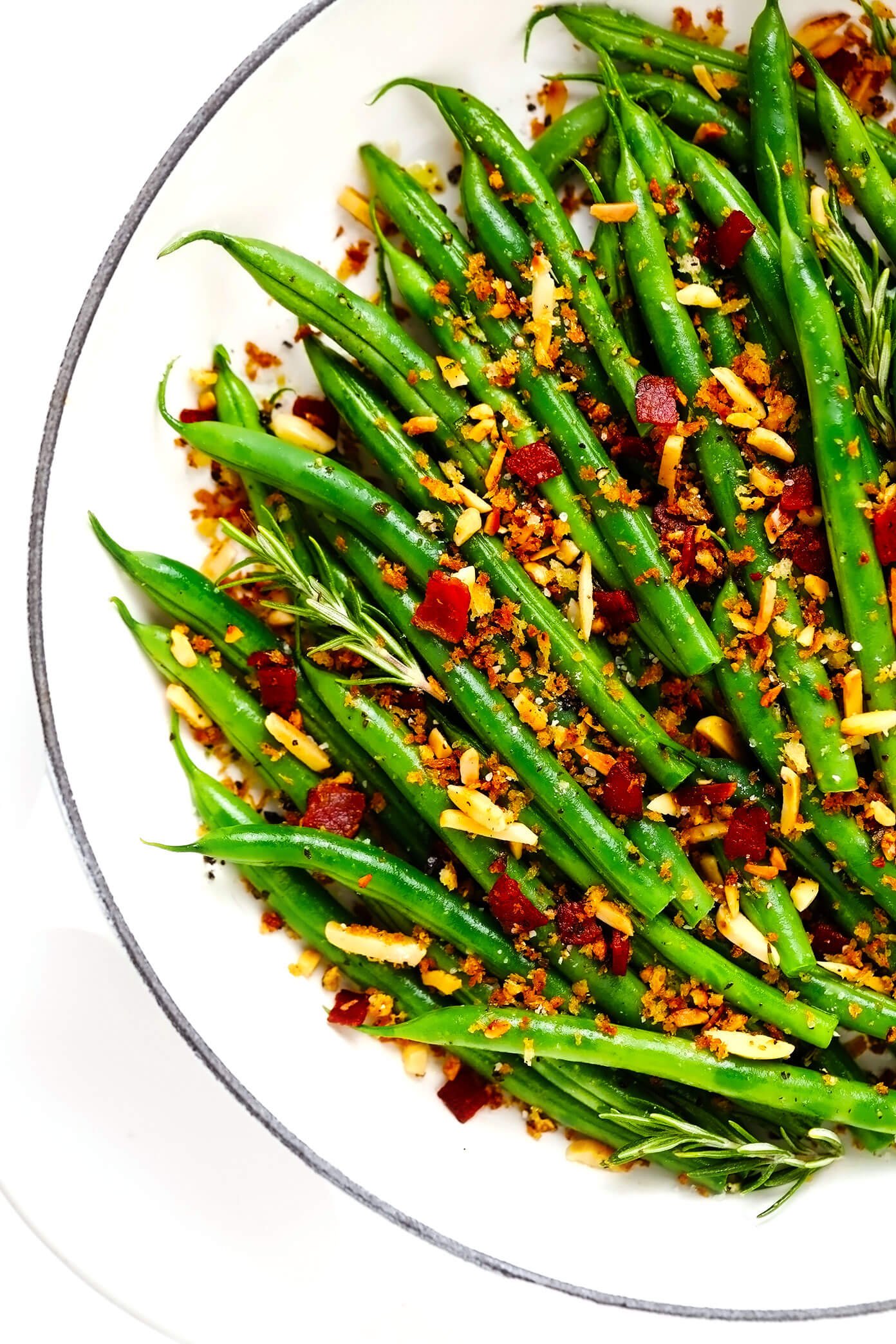 Oh my goodness, you guys…these green beans. ♡♡♡
I've had this recipe idea jotted down on my list of Thanksgiving side dish possibilities for awhile now, and figured they would be pretty tasty with all of these delicious flavors included.  But once I finally gave the recipe a test, they ended up being ten times more delicious (and downright addictive, lookout) than I had even imagined!  Like, so good that I would wager even the most green-bean-suspicious family members around your table may very well end up going back for seconds.
The magic of this recipe is, of course, lies completely in these fabulous bacon breadcrumbs.  They are sautéed with bacon grease, garlic, almonds, rosemary, and crispy panko breadcrumbs until they are golden brown and toasted.  And then once tossed with crispy bacon and sprinkled over crisp-tender green beans, the combination of all of those savory ingredients tastes like a batch made in vegetable side dish heaven.
The great news, too, is that this recipe is quick and easy to make and requires just one pan…which is always a bonus when you happen to be juggling space with multiple recipes around the holidays.  It's also easy to make gluten-free if you would like.  And if you fall in love with these bacon breadcrumbs, as I'm pretty certain you will, you could also totally use this recipe with any other veggies that you love too (such as Brussels sprouts, asparagus, potatoes, cauliflower, you name it).
Bottom line, this green beans recipe is a total winner and would be a great option for your winter and holiday menus this year.  So let's make some green beans together!