This Cozy Autumn Wild Rice Soup is made with fresh seasonal vegetables and greens, hearty wild rice, and a deliciously zesty, creamy broth (made with either coconut milk or cream).  Instant Pot, Crock-Pot and stovetop options all included!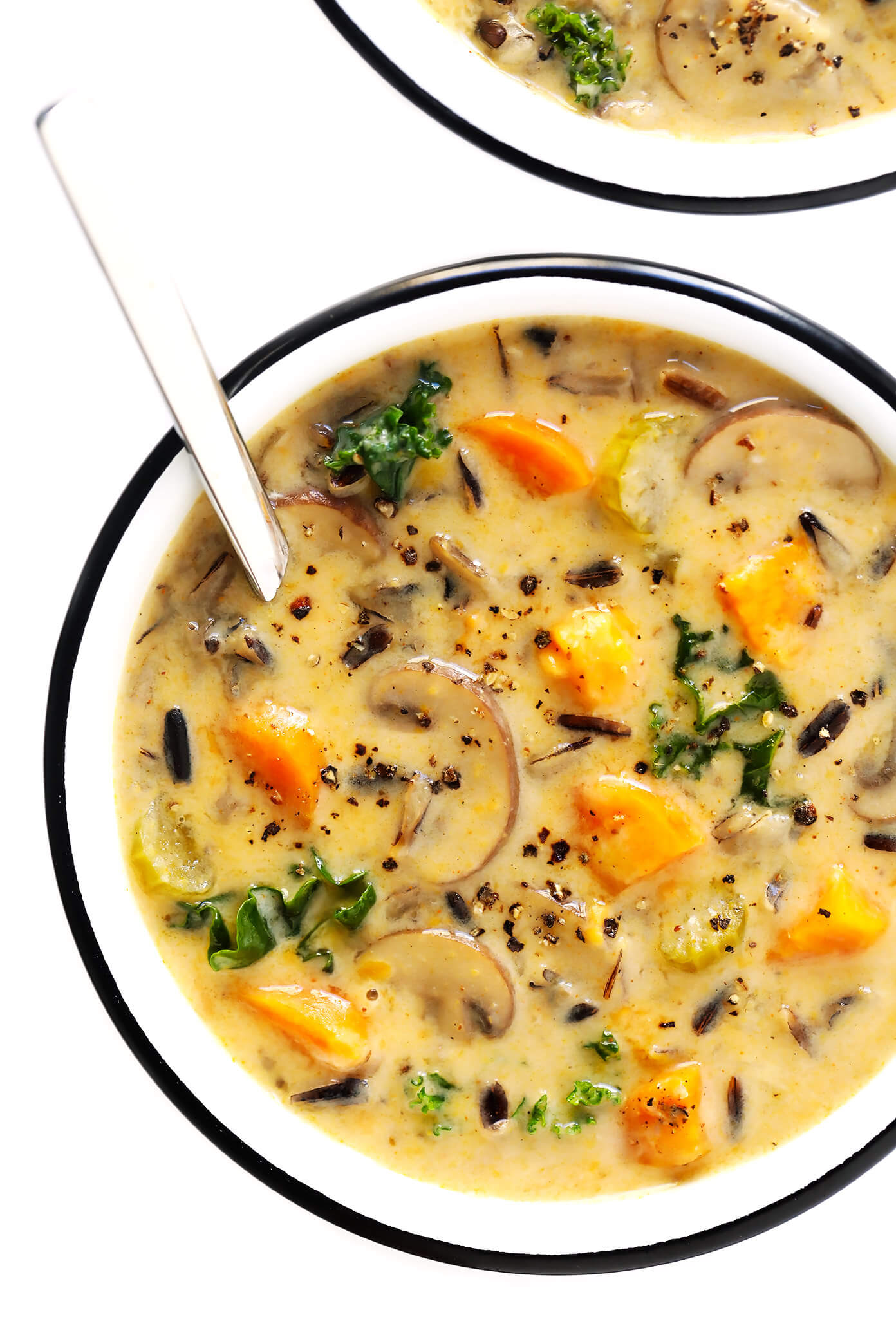 Who's ready to warm up with a bowl of wild rice soup? ♡
This cozy autumn wild rice soup has become one of our readers' favorite recipes here on Gimme Some Oven these past few winters and is also hands-down one of my personal all-time faves on the blog as well.  It's loaded up with lots of my favorite fresh seasonal produce, from sweet potatoes to kale, mushrooms, carrots, celery and onions.  It's made nice and hearty with the addition of wild rice, which just so happens to be lower in calories and higher in protein than many other rices.  But best of all, it is made with the most irresistible broth, seasoned with garlic and "the bays," as I call them, and made creamy with either the addition of coconut milk, cream or a roux-based cream sauce.
After having originally written this recipe with the cream sauce, I have to say that I — as well as so many of you readers — have become much more partial to the coconut version over the past few years, which I think adds the perfect hint of sweetness to the broth to balance out all of those savory flavors, and just so happens to make this recipe vegan too.  So for any of you who haven't tried that version yet, or this soup in general, I thought I would bump it back to the top of the blog today while we're right in the heart of cozy comfort food season.  I've included instructions below for how to make either the dairy or vegan versions, as well as instructions for how to make this soup in either the Instant Pot (my fave), Crock-Pot, or on the stovetop.  And of course, if you're craving some nostalgic chicken and wild rice soup, you're always welcome to toss some shredded chicken in here as well.
More than anything, though, I just wanted to pop in and say how happy I am that so many of you have tried and loved this soup!  It always means so much to me to read your comments and see photos of your dinner online.  So cheers to the cozy recipes that keep us all warm this time of year…and now let's make some soup!